---
If your car will not start, you probably need to jump-start the car battery. How to properly jump-start a car battery differs depending on whether you have a diesel vs. gas engine. To complete jump-start car service on your own safely, our service center at Cox Chevrolet near Sarasota helps to make this process easier. Read below to learn the proper way to jump-start a car, then check out our service specials to see how they can help you save in the event that your car won't jump-start and requires further attention from our technicians.
How to Properly Jump-Start a Car
Tampa and Palmetto drivers should know the proper way to jump-start a car. Here are two ways on how to jump-start a car:
Use another car and jumper cables
Contact a jump start car service
First option:
Identify the location of the car batteries in both vehicles, then park the vehicles so that their grilles touch. Switch both ignitions to off.
Lift hoods, remove plastic covers on battery terminals with caution to avoid breakage.
Locate the negative and positive terminals (Black cable attachment with a (–) symbol = negative. Red cable attachment with a (+) symbol = positive). Battery terminals should be clean.
Connect the red clamp on the jumper cables to the positive post on the dead car battery.
Connect the other red clamp to the positive terminal on the battery with charge.
Connect black clamp to the negative post on the battery with charge.
Attach the final black clamp to an unpainted metal surface on the car's frame.
Start the vehicle with the charged battery first and allow the dead battery to recharge. After the wait, start the vehicle with the dead battery.
After the vehicle starts, allow it to run while you disconnect the jumper cables. To disconnect, follow the exact steps of the connecting procedure, only backward.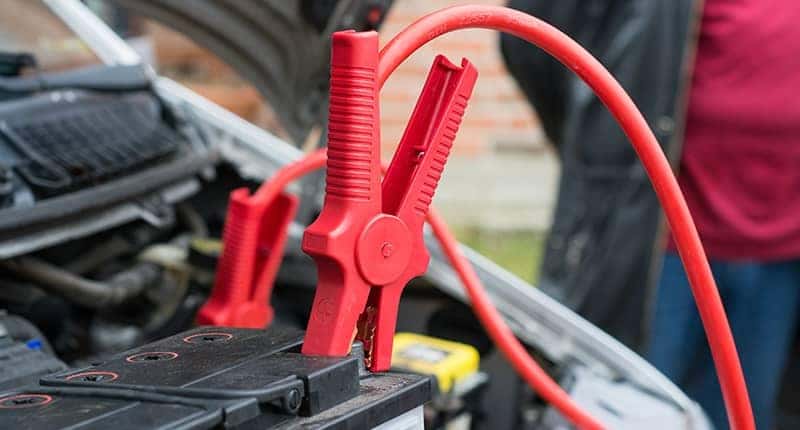 Why Your Car Won't Jump-Start
Wondering why your car won't jump-start? Here are two plausible reasons why your car won't jump-start, regarding engine malfunction or electrical problems:
Faulty starter– The engine sound clicks and the lights turn on but the engine won't turn over.
A blown ignition switch, starter, or fuse – This means the engine and lights will not turn on when you turn your key.
If your car needs an entirely new battery, the parts department here at Cox Chevrolet can help! Call us at if you require assistance, or if you know what type of battery your car needs, you can move directly to placing an order online. Need professional installation? Schedule an appointment with our service techs!
Need Additional Help? Contact Us!
Now that you know how to jump-start a car, feel free to contact us with any more questions. Whether your needs are strictly battery-related or you have questions about other topics, such as hearing strange noises from your car or changing a flat tire, you can count on us to provide service tips you can trust.