Chevy Teen Driver Technology

---
Are you a Tampa parent who is looking for a safer vehicle for your teen driver? Cox Chevrolet knows how stressful it is to send your teen out on the road alone, which is why Chevy Teen Driver Technology is the perfect suite for your young driver. In new Chevrolet models, the standard or available advanced Teen Driver Technology system comes equipped with features like audio controls, speed limiter, and more.
Chevy Teen Driver Technology Suite
As of right now, Chevrolet is one of the only automotive companies to produce some of the safest cars for teen drivers with this Teen Driver system. Below are the standard features to increase your confidence in your teen driver's safety as they head out to a Tampa restaurant for lunch with friends:
Speed Warning: If the pre-set speed limit exceeds, the systems will launch a visual and audio warning.
Speed Limiter: Feel free to set the speed to a max of 85 mph to prohibit extreme speeding.
Audio Limit: To make sure your teen driver isn't driving around Palmetto blasting music too loud, you can set audio volume limits.
Seat Belt Audio Mute: Until the front passenger and driver are buckled, this feature will mute the entire audio system until both seat belts are enabled.
Here are a few more additional features that are available at an added cost with the Teen Driver Technology:
Industry-First Buckle to Drive: Before your teen driver departs on any Sarasota roads, the high-tech Teen Driver Technology will restrict them from shifting out of park for 20 seconds. It will provide visual and audio alerts for seat belt reminders.
Industry-First In-Vehicle Report Card: You're able to check an in-vehicle report card to see how well your teen was driving without you and create learning opportunities to talk with them about how they can improve their solo driving skills.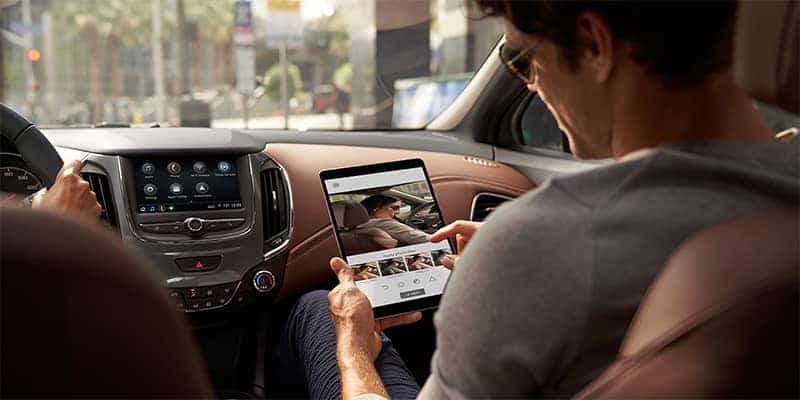 Best Cars for Teen Drivers from Chevrolet
New Chevrolet models are considered some of the safest cars for teen drivers in the Bradenton area. All Chevrolet vehicles, like the2020 Blazer Interior, are equipped with the Following Distance Indicator, Forward Collision Alert, and more. Below are some of the safest cars for teen drivers:
Visit Us at Cox Chevrolet in Bradenton
Now that you're aware of some of the best cars for teen drivers as well as the Teen Driver Technology, will you take home a new Chevy vehicle today? Contact our experts at Cox Chevrolet to help you figure out this new technology and learn about other great features like Chevy MyLink and programming a Chevy key fob.
More From Cox Chevrolet
You've probably noticed the new Chevy Traverse rolling around Sarasota. It's one attractive SUV. But just wait until you see the beautiful Chevy Traverse interior. Not only does this car look great on the inside, but there's plenty of room, including the generous Chevy Traverse cargo space. We go into the details below, including…

If you're shopping for a Chevy Equinox near Sarasota, you'll need to figure out which of the 2022 Chevy Equinox trims are right for your needs. Take a moment to explore the pricing and key features available on each of the 2022 Chevy Equinox configurations. Then, apply for financing and reach out to Cox Chevrolet…

Chevrolet Silverado trucks are highly customizable for Sarasota drivers and therefore come in a wide range of weights. Before we jump into the range of 2022 Chevrolet Silverado weights, you'll need to understand curb weight, which is the weight of a vehicle with a full tank of gas and all standard equipment. With that out of…