Used Chevrolet Tahoe Near Sarasota
Find a Used Chevy Tahoe Near Sarasota in the Cox Chevy Inventory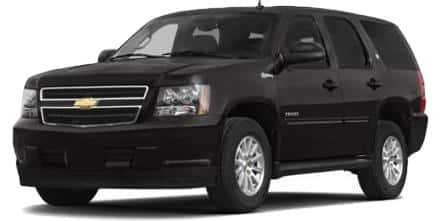 The Chevy Tahoe was first introduced in 1995. Since that time, Chevy has put a lot of thought and attention into improving every model year of their signature SUV. At our Sarasota-area used car dealership we have used Tahoe models available right now to test drive. Make the short drive north from Sarasota to our Bradenton dealership on Cortez Road. We are the area's premier dealership for new and used Chevys, and we would love to help you find the Tahoe you have been looking for.
Huge Interior Cabin
If you are looking for an SUV that can handle both large numbers of passengers and all of their gear, the Tahoe is a great choice. While other automakers have scaled down their SUV models in recent years, Chevy realizes that there is still a demand for a large, rugged vehicle that can handle any situation. Recent models seat nine comfortably with plenty of cargo room left to spare.
Smooth Ride
Since 2007, Chevy engineers have worked tirelessly to improve the drive quality of the Tahoe model. A powerful engine, a sturdy frame, and a responsive transmission all combine to create the kind of driving experience you rarely find in a vehicle this big. If you are looking for a full-sized SUV that is fun and easy to drive no matter whom is behind the wheel, consider a used Chevy Tahoe.
Exceptional Crash Protections

In government crash test ratings, recent models of the Chevy Tahoe have received unbeatable scores. In front and side-impact crash tests the Tahoe received five out of five stars. Just because a vehicle is big does not mean that it is strong, but the Chevy Tahoe has proven over and over that it can reliably protect both drivers and passengers. The safety of the Tahoe combined with its size and features makes it the ideal family vehicle.
Travel from Sarasota to Cox Chevy in Bradenton
When you are looking for a used Chevy Tahoe, don't go to the nearest dealership, go to the best. Cox Chevy is a short 10 miles from Sarasota, and we have a stellar inventory of used vehicles including Tahoes and more. Research your options online, and visit us in Bradenton whenever you are ready to take a test drive.