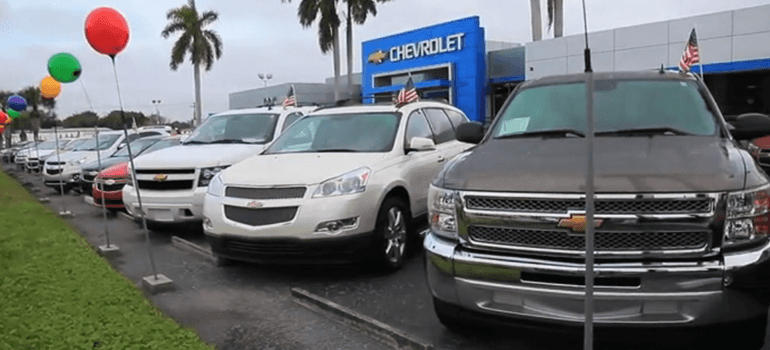 Hello Sarasota!
Browse Used Chevy Cars Near Sarasota at Cox Chevrolet
At our Sarasota-area car dealership, we get all the newest Chevy models as soon as they hit the market. But did you know we also have an extensive inventory of used Chevy cars, pickups, vans, and vehicles from other automakers?
If you are in the market for a great vehicle with a lot of life left in it, make the short trip from Sarasota up US-41 North. Make a left when you reach 44th Avenue / Cortez Road West. The drive to our location at 2900 Cortez Road in Bradenton takes less than 20 minutes, so we're very convenient.
Easy Online Shopping
You probably want to kick the tires and look under the hood before you purchase a used vehicle, but there is a lot you can find out before you ever see one of our vehicles in person. We make it easy to do research by providing our entire inventory of used vehicles to be searched through our website. You can access pictures, technical specifications, vehicle history reports, and more, all from the comfort of your own home. Before you make the trip to Bradenton, check our website to find out what is currently available.
Chevy Certified Pre-Owned Program
In their commitment to always serve their customers better, Chevy has established a certification program to identify the highest quality used Chevys available. In order to receive certification, a vehicle must pass a 172-point inspection and undergo a comprehensive refurbishing process so it is almost as good as new. Chevy also offers generous incentives, rebates, and warranties to customers who purchase certified used vehicles. We have a wide variety of certified pre-owned Chevys available at all times.
Visit Bradenton to Find Used Chevy Cars
Our central location in West Bradenton is easy to reach from Sarasota to the south. Let the entire team at Cox Chevy help you find the used vehicle you are looking for. Start your search online, then come and visit our dealership at 2900 Cortez Road W. in Bradenton whenever you are ready to go for a test drive.