How Long Does It Take to Charge an Electric Car?

---
Looking for a way to spend less money fueling up at Sarasota gas stations? Electric vehicles are a great solution, but you may be wondering, "how long does it take to charge an electric car?" The answer depends on your charging method. There are several charging options available with different plugs and ports, as well as charging adapters. Learn more about electric car charging times and options with Cox Chevrolet before you get behind the wheel!
What Are My Electric Car Charging Options?
Domestic Outlet Home Charging: Your most basic option is an everyday three-pronged 110V/120V charging outlet (Level 1 Charging). This option takes a while to reach a full charge, so it's not an ideal long-term solution, but it's good for topping off each night to prepare for your daily commute.
Installed Brand-Approved Home Charging: To reach Level 2 Charging, you'll typically need to go with a professionally-installed, brand-approved option. When you make the upgrade, you can expect a much faster charge time than with a domestic outlet.
Public Charging: With electric vehicles gaining popularity on Tampa streets, public charging stations are on the rise, too. When you're on the go, you can stop off at parking garages, hotels, malls, and even apartment buildings to top off your charge. Many big-name national stores are also participating now, like Walgreens and Kohls, and more charging stations are being installed across the country every day.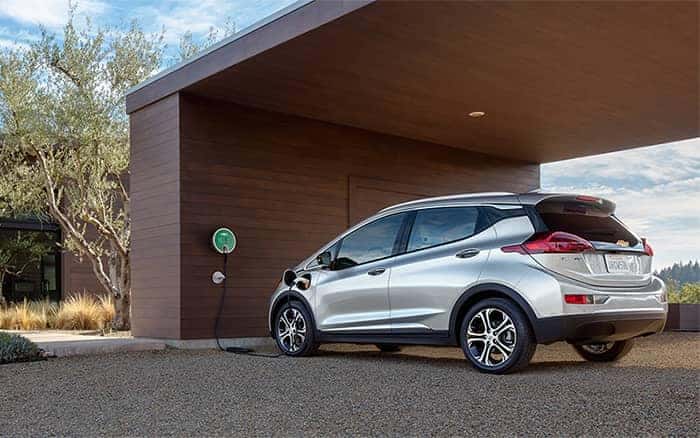 How to Find a Public Charging Station Near You
When you're out and about in Palmetto, locating the nearest electric car charger for your Chevy Bolt couldn't be simpler. On the myChevrolet mobile app, navigate to the Energy Assist feature. From there, the app will pick charging stations for you, based on the most efficient route and where you will find the shortest wait time to start charging.
What Are My Charging Options for the Chevy Bolt?
Level 1 Basic: 120-Volt Portable Charger Cord
This at-home electric car charger provides 4 miles of range per hour of charging.
The Chevy Bolt comes standard with a 120-volt portable charger cord, which can be plugged into any 120-volt, three-prong outlet. Most Bradenton Bolt owners find that it's most convenient to charge this way overnight, as you can earn about 48 miles of range from a 12-hour charge. If this will be your primary charging method, it's recommended that you charge your Bolt every day so you don't risk running out of range while driving.
Level 2 Fast: 240-Volt Charging Unit
The 240-volt electric car charger unit is available at public charging stations or can be installed in your home. It will provide 25 miles of range per hour of charging.
You can purchase a 240-volt electric car charger unit for $599 MSRP. Cox Chevrolet can order the charger to our dealership in Bradenton, where you can pick it up yourself or elect to have it installed by a technician. This is the most convenient charging option, as you can get 40-50 miles of range in about two hours, or 100 miles of range in about 4.5 hours. Charging overnight for 9.5 hours will get you up to a full 259 miles of range, so you'll be fully prepared to commute to work, grab lunch in Palmetto, and go anywhere else you please in-between!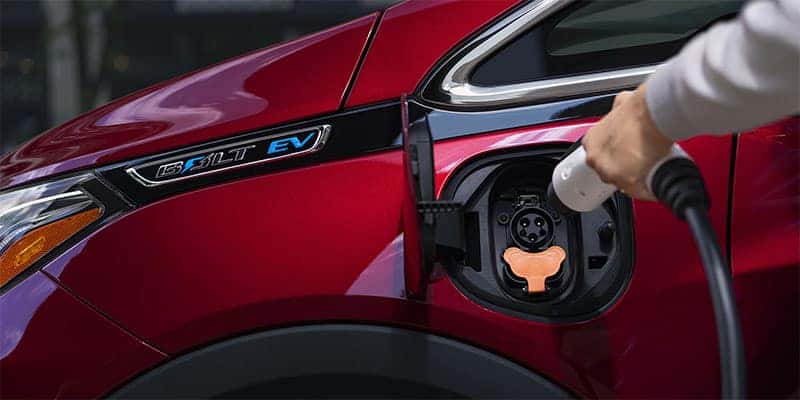 Level 3 Super Fast: DC Fast Charging
Level 3 DC Fast Charging is only available at public stations. It provides up to 100 miles of range per 30 minutes of charging.
Only certain public charging stations have DC Fast Charger units available, and drivers will need to pay an extra cost to plug into this super fast option. For occasional use when you're in a pinch and need a full charge, DC Fast Chargers can provide 160 miles of range in about an hour.
How Long Does It Take to Charge the Chevy Bolt?
What is the Charging Time of the Chevrolet Bolt?
Cox Chevrolet is proud to carry the Chevrolet Bolt for Palmetto shoppers who are interested in going electric. Details on this Chevy electric car charging time are as follows:
Chevrolet Bolt EV: 238-mile range
Home Charging: When charging at home, you can get about 48 miles worth of charge in 12 hours using a domestic outlet, and a 0 – 100 percent charge in about 9.5 hours using the available 240V 32-amp charger.
Public Charging: Pull up to a public charger to get about 90 miles of charge in just 30 minutes with DC fast charging, or go from 0 to 80 percent in a little over two hours if you have the time to wait.
Explore the Chevy Bolt EV at Cox Chevrolet!
Ready to upgrade your Brandon commutes with a Chevy Bolt EV from Cox Chevrolet? Not only will you enjoy significant fuel savings, but you'll also be more environmentally-friendly. Contact us when you're ready to schedule a test drive, and be sure to browse our lease and finance offers to get a great price on your new electric vehicle and compare the Chevy Bolt vs. Nissan LEAF to continue your electric vehicle research.
More From Cox Chevrolet
You've probably noticed the new Chevy Traverse rolling around Sarasota. It's one attractive SUV. But just wait until you see the beautiful Chevy Traverse interior. Not only does this car look great on the inside, but there's plenty of room, including the generous Chevy Traverse cargo space. We go into the details below, including…

Chevrolet Silverado trucks are highly customizable for Sarasota drivers and therefore come in a wide range of weights. Before we jump into the range of 2022 Chevrolet Silverado weights, you'll need to understand curb weight, which is the weight of a vehicle with a full tank of gas and all standard equipment. With that out of…

Check out the 2022 Chevy Colorado technology per trim, along with other features that will make your commute to Sarasota more relaxing than ever. Not only is the Chevy Colorado perfect for the jobsite, but it also has features that make it resourceful off the road. The Colorado extremely adaptable, and it comes at…