Used Chevrolet Tahoe
Looking for a Used Chevy Tahoe? Come to Cox Chevrolet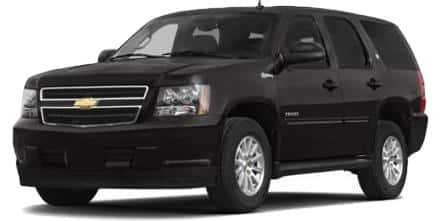 Tampa and Bradenton drivers, when you need a used Chevy Tahoe, you know to visit your Bradenton used car dealer, right? Here at Cox Chevrolet, we get drivers from all over the state that know we are one of the best places to get a new Chevy, but we are also one of the best sources for used Chevy vehicles like the Tahoe SUV.
A great full-size SUV, the Tahoe has been a favorite of families for years. Now that it's pushing two decades of production, there are many different takes on the vehicle that you can choose from when you buy a pre-owned model. Let's take a look at what you can expect to find in some recent models.
The Third Generation Tahoe (2007 to Present)
Debuting in 2007, critics praised the new Tahoe's drivability, its build quality, and its interior design. Until 2010, drivers had the choice of two different V8 engines—one with 295 hp and one with 320 hp—a 395 hp engine was available in 2009 as well.

One of the most notable upgrades to this generation came in the way of safety features, with later models including front side and side curtain airbags. The third row of seating was also optional for the 2007 and 2008 models, while the 2013 Chevy Tahoe included such amenities as Bluetooth, OnStar, an iPod/USB interface, and satellite radio.
The Second Generation (2000  to  2006)
Going a little further back, the second-gen Tahoe was frequently praised as one of the best SUVs in its class. A little smaller than its successor, this model still had two V8 engine options: a 285 hp and a 295 hp, either with the option of two-wheel or four-wheel drive.
We recommend that drivers keep an eye out for models with the once-optional Stability Control System—available from 2003 onward—for added safety.
Visit Us in Bradenton for a Test Drive
We do our best to match our drivers up with the vehicles that fit their needs and budget, and we think that if you're eyeing the Tahoe, you can find a used one that does what you need it to do.
Of course, we carry a wide variety of used cars, trucks, and SUVs, and even if we don't have the Tahoe you may be looking for, we are confident that there's something here that would love to call your garage "home." Visit Cox Chevy today at 2900 Cortez Road W. near Tampa, and take one of our gently-used vehicles for a test drive.