Used Chevrolet Sonic
Drive Home a Used Chevy Sonic From Cox Chevrolet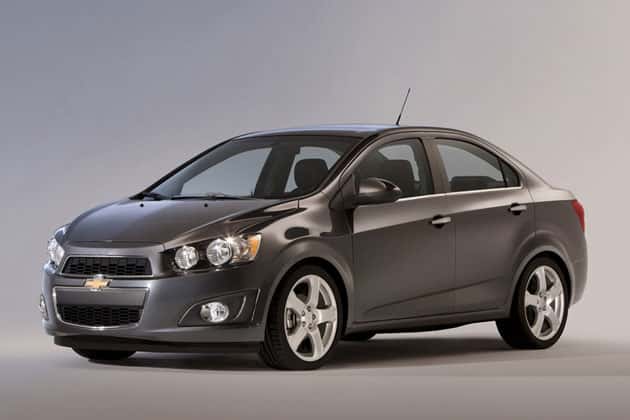 Have you had trouble finding a used Chevy Aveo these days? That might be because the vehicle was recently revamped and rebranded as the Chevy Sonic! Available now at Cox Chevy, your Tampa-area Chevrolet dealership, we not only carry the brand new model but pre-owned ones as well.
When you have a vehicle this new, buying a used Chevrolet Sonic often means that it's eligible for the General Motors Certified Pre-Owned program, giving you access to additional peace of mind and warranty coverage right alongside your used-car savings.
Let's see what you can expect from a pre-owned Sonic.
The Chevy Sonic (2012 – Present)
Like we said, the Sonic is new, but that doesn't mean we don't have pre-owned models slip through our showroom on occasion. Available as either a versatile hatchback or a sleek sedan design, the Sonic has featured its fair share of modern tech options from the beginning, including:
With four trim levels to choose from on the 2012 Sonic—LS, 1LT, 2LT, and LTZ—there are plenty of options available across the used model inventory. Drivers looking for a bit more pep than the standard1.8L four-cylinder might find a 1.4L turbocharged four-cylinder on LT and LTZ models, rated at 138 hp and 148 lb-ft of torque.
Sedan or hatchback, the Sonic makes for a great family car too. The sedan's trunk space has room for 14 cubic feet of storage, while the hatchback accommodates 19 cubic feet—or up to 30.9 cubic feet with the rear seats folded down.
Used Chevy Aveo Models Available
If you want something a bit older and more affordable, don't forget about a used Chevy Aveo. We tend to see a few more of those than Sonics, just because they have been around a bit longer, but if you have your heart set on a used Sonic, keep your eyes peeled and drop by Cox Chevy every once in a while.
Visit Cox Chevrolet Today
Call it a Sonic, call it an Aveo, call it whatever makes you happy, but we think that this car is a great fit for quite a few different drivers—sedan or hatchback.
Visit Cox Chevy today and take a used Sonic for a test drive, and don't forget that we carry a diverse selection of pre-owned models, so if the Sonic isn't for you, we're confident that we have something that is. You can find us at 2900 Cortez Road W. in Bradenton.