Used Chevrolet Camaro
Cox Chevrolet is Your Source for Used Chevy Camaro Sports Cars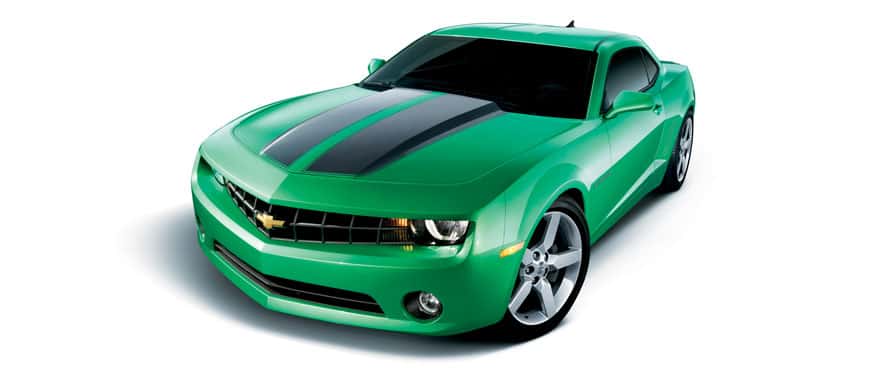 For going on half a century now, the Camaro has been a vehicle of choice for auto enthusiasts in Tampa, Bradenton, and the many other communities surrounding Cox Chevrolet. That's one of the many reasons we are proud to offer used Chevy Camaro models, making it easy and affordable to own a piece of American automotive history.
Whether you're in the market for a classic Camaro or something more recent, we routinely have models coming into our showroom, and we have a quick outline of what you can expect from recent generations of this amazing vehicle.
The Fifth Generation Camaro (2010 – Present)
After a hiatus of seven years, the Camaro returned with a vengeance in 2010. Initial models were offered only as a coupe body style, carrying a 304-hp V6 engine as standard, but convertible lovers didn't have long to wait. The 2011 model year saw the introduction of the convertible model of the modern Camaro, bumping the V6 engine up to 312 hp.
Though we don't get too many 2013 model year Camaros in our used inventory yet, the vehicle received a notable refresh with interior changes and some new design choices from the folks at Chevrolet. That's in addition to the mighty Camaro ZL1.
The Fourth-Gen Camaro (1993 – 2002)
While some drivers would be reluctant to call a vehicle made up until 2002 a "classic," we are eager to do so. That's probably because the 10-year run of this Camaro left a pretty noticeable mark on so many drivers.

If you're looking for a vehicle that places performance and style and the top of their priorities, look no further than the fourth generation of this Chevy. Though there was quite a bit that changed over the years of this Camaro generation that just means it's more likely you will find one that fits your needs!
With engines ranging from 160 to 320 hp, you've got quite a lot to choose from, and there were a range of transmissions, from a four-speed automatic to five- and six-speed manuals, making it easy to get the driving experience you want in such a classic car.
Test Drive This American Icon Today
When it comes to the likes of muscle and sports cars, there are few that are more iconic than the Camaro, and you can get behind the wheel of one today at Cox Chevrolet. We're located close to Tampa at 2900 Cortez Road W. in Bradenton. If you have any questions about the Camaro—including our inventory of available models—don't hesitate to contact our sales experts.