How to Tell When You Need New Brakes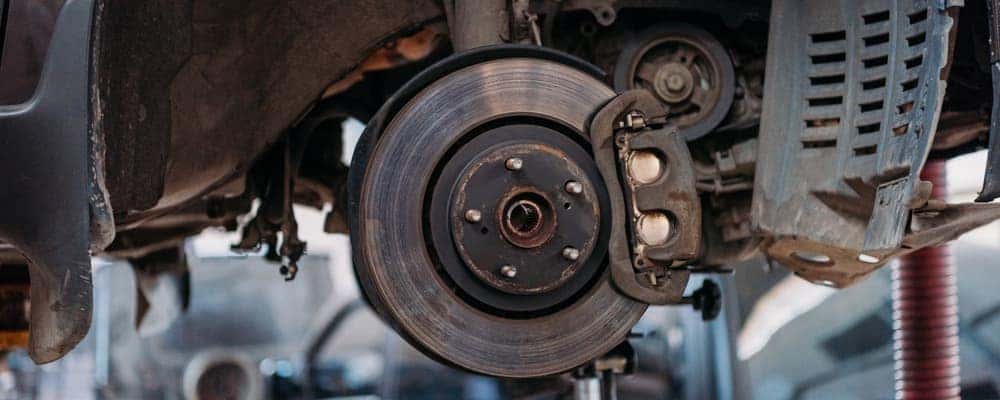 Learning how to tell when you need new brakes means everything from avoiding expensive repairs instead of catching problems early to seriously cutting down on the risk of an accident.
Luckily enough, there are plenty of signs that should alert you:
Unpleasant Sounds
Excessive Vibration
Pulling to One Side
Increased Stopping Distances
Sinking Pedal
If you have any questions about these noises, contact our service department and speak with one of our highly-trained service technicians.
Don't Ignore These Common Signs You Might Need New Brakes
Unpleasant Sounds: Hear any scratching, grinding, or scraping sounds when you apply the brakes? Those metal-on-metal sounds are created when brake pads wear down to a certain point and expose the wear bar. That sound is actually a warning you need to have the brake pads changed.
Excessive Vibration: Even if you don't hear anything wrong, you might feel something wrong. If your car vibrates upon braking, you could be facing issues with anything from the pads to the rotors to the calipers. It's an easy enough issue to ignore, but it's often the first symptom of a major problem.
Pulling to One Side: When you apply the brakes, does your vehicle seem to pull to either side? If so, you could have a braking issue where friction on one side is greater than the other. This could be caused by a stuck caliper, collapsed brake hose, or simply by brake pads with uneven wear.
Increased Stopping Distances: Stopping distances get steadily longer as your brakes start to age. If you've started feeling you need to push down the pedal harder than before or leave more space to deaccelerate, your brakes probably need to be looked at. Remember, poor stopping distances can lead to serious accidents.
Sinking Pedal: Sometimes braking issues lead to a pedal sinking. This simply means the brake pedal goes down too far or too easily when you need to bring the vehicle to a stop. It's often a sign of a leak in the braking system.
Visit the Cox Chevy Service Center for Expert Brake Repair and Replacement
Sometimes needing new brakes means nothing more than a few new pads, but you'll never know for sure unless you take advantage of professional servicing. To get just that, feel free to visit Cox Chevy today. Contact us with questions about your brakes or to schedule a service appointment. Be sure to browse our current service specials and save on your next visit!
Learn More at Cox Chevrolet
You've probably noticed the new Chevy Traverse rolling around Sarasota. It's one attractive SUV. But just wait until you see the beautiful Chevy Traverse interior. Not only does this car look great on the inside, but there's plenty of room, including the generous Chevy Traverse cargo space. We go into the details below, including…

If you're shopping for a Chevy Equinox near Sarasota, you'll need to figure out which of the 2022 Chevy Equinox trims are right for your needs. Take a moment to explore the pricing and key features available on each of the 2022 Chevy Equinox configurations. Then, apply for financing and reach out to Cox Chevrolet…

Chevrolet Silverado trucks are highly customizable for Sarasota drivers and therefore come in a wide range of weights. Before we jump into the range of 2022 Chevrolet Silverado weights, you'll need to understand curb weight, which is the weight of a vehicle with a full tank of gas and all standard equipment. With that out…