The 2014 Toyota Sequoia vs. the 2014 Chevy Tahoe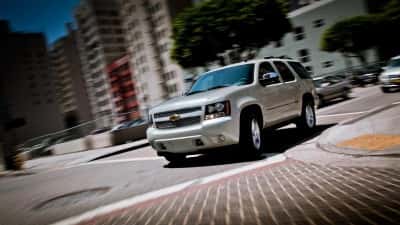 The SUV has been around for a while now, and as your Bradenton Chevy dealer, we know that the demand has only kept rising year after year. After all, who wouldn't want a powerful, work-friendly vehicle that has the room and capabilities to be a great family option as well? There are plenty of SUVs to choose from these days, though, and we're here to help with your search.
The 2014 Chevy Tahoe is brand new and ready to head out of our showroom and into your garage. Built for performance and reliability, the Chevrolet SUV is a thing of beauty to see in action, and once you know you want a Tahoe, you can get practically any modern features you're looking for—that's if they aren't included already!
Now, we said there are lots of SUVs out there, and that's true. What's a better way to illustrate just how great the Tahoe is than comparing it to a competitor like the 2014 Toyota Sequoia?
Chevrolet Tops Toyota at the SUV Game
While nobody likes to think about the cost of the vehicle they want to drive home, at Cox Chevy, we know that it can be a deciding factor and are proud to say that the Tahoe comes in at almost $2,000 less than the Sequoia. The entry-level Tahoe LS retails for $42,595 compared to the Toyota's $44,590.
Of course, price isn't the only thing that the Chevy has going for it. The Tahoe is also more efficient, with an EPA-estimated fuel economy of 21 highway mpg to the Toyota's 17 highway mpg. Savings on top of savings.
And when it comes to technology, Chevy outfits their vehicles well, giving drivers amenities like:
OnStar
Built-in navigation
Parking assistance
None of which you'll find on the basic Sequoia. And that's just the tip of the iceberg.
Test Drive the Tahoe Today
As we said, that's just the start of the perks of the Tahoe. To see the 2014 Chevy Tahoe in action for yourself, visit Cox Chevy and take one for a test drive.
We think you'll be glad you did, but even if you find it isn't quite for you, don't worry. The whole Chevrolet lineup is here, and we are confident that there is something in there that fits your needs.
Get behind the wheel of a new Chevy today.