The 2014 Toyota Land Cruiser vs. the 2014 Chevy Suburban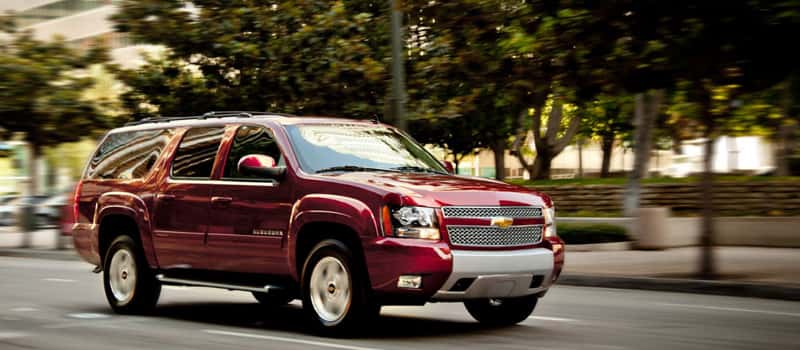 Here's a little known fact: the Suburban is not only the oldest nameplate in Chevy's line-up, but in all of automotive history. With an eighty year market history, the Suburban hit the roads just as Cox Chevy was opening its doors. It's just one of the reasons that this hard-hitting SUV holds a very special place in our hearts.
The 2014 Chevy Suburban has lived up to its nameplate's legacy by delivering awesome power, performance, and comfort. It also comes with a full list of Chevy features, making it one of the best equipped options in its class.
One of the reasons that the Suburban has stuck out as a favorite in its class is because it offers some of the best that an SUV can while still wearing a low price tag. In fact, it offers as much, if not more, than the 2014 ToyotaLand cruiser in many ways. Here's how they compare.
Features, Fuel Economy, and Space
With a starting price that is tens of thousands of dollars less than the Land Cruiser, it's surprising that you many of the same features come standard on both. This includes things like Bluetooth handsfree calling and iPod connectivity. Also, thanks to its smaller standard, 320hp engine, the base Suburban gets better fuel economy than the Land Cruiser, 21mpg on the highway compared with 18mpg.
Another edge that the Suburban has on the Land Cruiser is space. Suburban drivers enjoy 45.8 cubic-feet of standard space with all eight seats in place, compared with the pretty sad 16.1 cubic feet space in the Land Cruiser. As for total available space, the Suburban wins again with 137.4 cubic feet to 81.7 cubic feet.
Learn More at Cox Chevy
Find many more reasons to love the 2014 Suburban at Cox Chevy in Bradenton. Our dealership is located at 2900 Cortez Road W., a quick trip from many different communities around the Bradenton, Tampa, and Sarasota areas. If you have any questions about the latest Suburban, don't hesitate to contact our dealership.