The 2014 Toyota Avalon vs. the 2014 Chevy Impala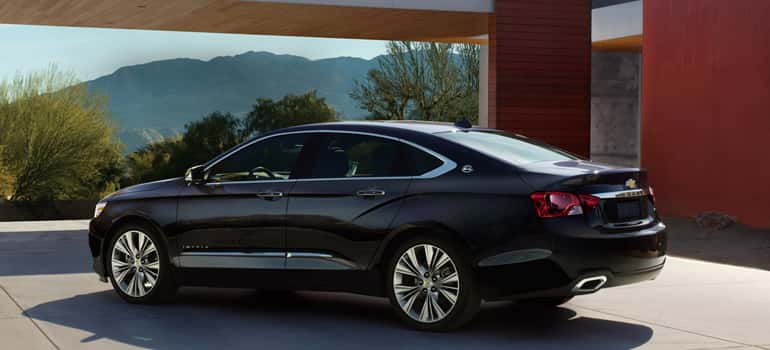 When it debuted in the summer of 2013, 2014 Chevy Impala was hailed as not only one of the best options in its class by Consumer Reports, but one of the best four-door vehicles the magazine had ever reviewed. A smart, sophisticated design and first-class performance are just two of the reasons that critics and drivers have loved the 2014 Impala. Take the 2014 Impala out for a test drive at our Brandenton Chevy dealership.
So what distinguishes the 2014 Impala from vehicles like the 2014 Toyota Avalon? Across the board, both vehicles offer many of the same standard features, such as Bluetooth calling. Critics have cited that the Impala has a much better driving style compared with the stiffer Avalon. Chevy also delivers a better warranty plan, helping you to protect your investment for a long time to come.
The Impala Rides Like a High-End Sedan Should
It's always a tragedy when a sleek looking vehicle doesn't deliver on its most basic function: its ability to carry you from A to B smoothly. On the other hand, some do, and do it very well. Consumer reports says, "[the Impala] rides like a luxury sedan, cushy and controlled, and the well-endowed cabin stays very quiet. The roomy interior has a sumptuous back seat and a huge trunk."
As we mentioned, Consumer Reports noted the Avalon rode a little stiffly, and also that the controls felt more complicated. We encourage you to take both the Avalon and the Impala out for a drive and see the difference first hand. When it comes to a long-term investment like a car, it's good to have a ride that you can stay comfortable in.
Vehicle Warranty
And as for protecting that ride, Chevy delivers a 100,000 miles / five-year powertrain warranty on all Impalas. This is compared with the 60,000 miles / five-year warranty on the Avalon.
Come to Cox Chevy Near Tampa for a Test Drive
To take the 2014 Impala out for a test drive, we encourage you to visit Cox Chevy in Bradenton. Our dealership is located at 2900 Cortez Road W., a short trip from Tampa, Sarasota, and St. Petersburg.