The 2014 Chevy Sonic vs. the 2014 Toyota Yaris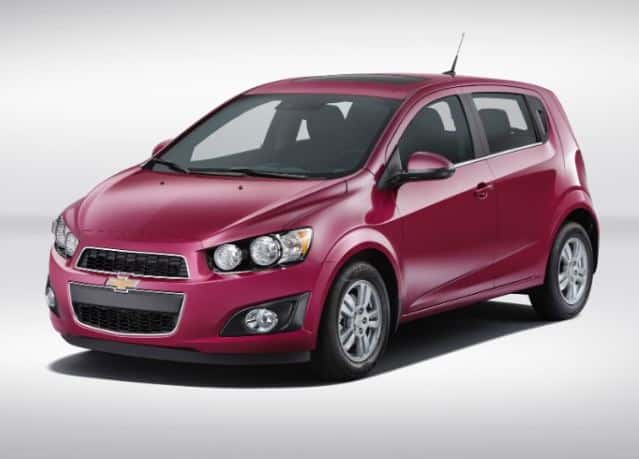 Sporty and fuel efficient, the 2014 Chevy Sonic hatchback is a great pick for anyone looking for a low-priced, well-equipped smaller vehicle. Its subcompact size also lends it a naturally strong fuel economy, which doesn't mean there's a compromise in performance either. This has made the Sonic a top pick in the Bradenton and Tampa areas.
The 2014 Toyota Yaris has a similar size and price to the Chevy, but the Sonic definitely shows it worth with better performance, a broader list of features, as well as more cargo space. Can we say the Sonic just looks edgier, too?
Performance
One hesitation about shopping for a small vehicle for many drivers is its performance. Not to worry: the Sonic hatchback comes standard equipped with a 1.8L 4-cylinder engine with a tough power output of 138 hp and 125 lb-ft of torque. The Yaris falls a little short in the power department, though, offering only 106 hp and 103 lb-ft of torque.
Drivers will definitely notice more "get up and go" in the Sonic thanks to its tougher engine power. You'll also have an easier time accelerating to highway speeds.
Cargo Space
Like we said, the Sonic also has more standard cargo space than the Yaris. With 19 cubic-feet of storage space, it does little to limit what you can carry. In comparison, the Yaris has 15.3 cubic-feet, almost four cubic-feet less than the Sonic.
Vehicle Warranty
Chevy drivers also have a superior warranty to the Yaris. Here's how they compare:
100,000 miles / five-years vs. 60,000 miles / five-years for the powertrain warranty
100,000 miles / five-years vs. 25,000 miles / two-years of roadside assistance
Want to Learn More? Visit Cox Chevrolet in Bradenton
There are plenty of other reasons to love this fun hatchback. We encourage you to stop by for a test drive of the new Sonic, or any of our other vehicles. Cox Chevy is located at 2900 Cortez Road W., in Bradenton, a short distance from many different communities around the Tampa, Sarasota, and St. Petersburg areas. Email our dealership if you have any questions!