The 2014 Chevy Corvette Coupe vs. the 2014 Dodge Challenger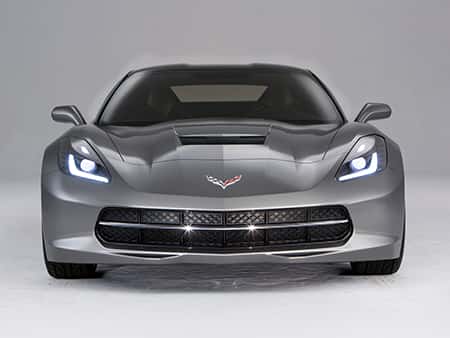 When it comes to muscle cars, Tampa-area drivers know to visit Bradenton's Cox Chevrolet for the 2014 Chevy Corvette Coupe. This modern engineering masterwork is not only beautiful to look at, but it's incredibly impressive on the road. We're confident there aren't really any other vehicles like the new Corvette, but there are a few that like to pretend to compete.
The Dodge Challenger tries to keep up with the Corvette every year. Let's see if the extra-powerful 2014 Dodge Challenger SRT8 stands a chance against the Chevy sports car.
Sports Car Performance
For sports cars, there really are few vehicles like a Corvette, and you can see that plain as day when you set it up next to the new Challenger. We're not going to lie to you, either; the Challenger is a great car. We just think that you owe it to yourself to drive a Corvette. After all, who wants just "great," when you can have "amazing?"
Not only is the Corvette loaded with a 455-hp V8 with 460 lb-ft of torque, but it bests the fuel economy of the Challenger, earning an EPA-estimated 29 highway mpg and demolishing the myth of the sports car as gas guzzler.
The Dodge? It gets 23 mpg on the highway thanks to its old fashioned V8 engine.
Vehicle Features
And when it comes to features, well, the 'Vette wins again. Here are just a few perks that you'll find on the Chevy:
OnStar telematics
Built-in navigation system
Satellite radio
That's just the beginning. Upgrading to the 2LT or 3LT trims unlocks far more options, while the SRT8 of the Challenger is about as loaded with features out as the line can get.
And on top of all of that, there's aesthetics. The Corvette has a legacy, and it continues to be one of the most beautiful vehicles on the road, while the Dodge Challenger, as always, seems to be pretty utilitarian in design. Why settle for a vehicle with just a bit of substance when you can get substance and style?
Test Drive a Corvette Today
Just listen to how wonderful that sounds, "test drive a Corvette today." We want you to see just how this vehicle has earned its reputation, and while we think our words paint a nice picture, there's nothing like driving the 2014 Chevy Corvette Coupe. Contact the Cox family today to set up your test drive; we can't wait to see you at 2900 Cortez Road W. in Bradenton!