The 2013 Toyota Prius vs. the 2014 Chevy Volt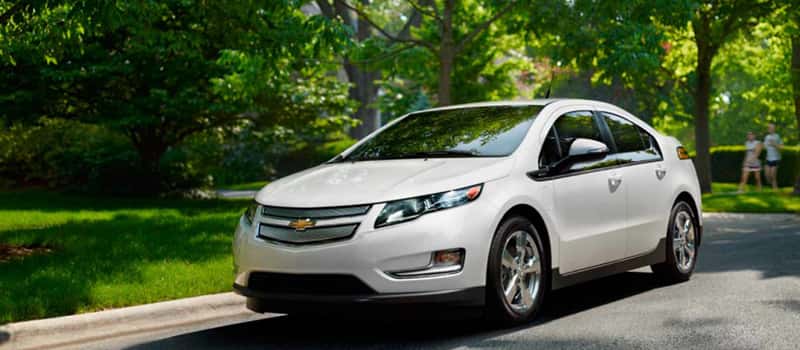 Sure it may be the poster child for fuel savings in the auto world, but the 2013 Toyota Prius is hardly leading the game. If anything, the Prius set the bar for others to jump over. Besides, running only on gasoline is so passé. Move, over Prius; there's a reason that the 2014 Chevy Volt is becoming one of the most popular fuel-efficient vehicles on the market. Having the option of either charging it in your garage or filling up on gas at the pump is only part of why drivers love this bold looking car.
A New Way to Think About Fuel Savings
What sets the Volt apart from other hybrids like the Prius is it can use both an electric motor and a gasoline engine to power the drivetrain. Rather than working in tandem, the Volt runs entirely off of the electric motor until switching seamlessly over to the gasoline engine once the battery is depleted.
The Volt's electric range is estimated at 40 miles, give or take miles depending on your driving style. Regardless, the range is easily within most drivers' daily commute. The battery can easily be charged at home, too; and since it's typically much cheaper to travel 40 miles on electricity than it is on gasoline, many owners find that their monthly fuel bills begin to shrink. Don't have time to charge the Volt? No worries; just fill up on gas and go.
And though the raw numbers may look more appealing with the Prius, who has an estimated 49 mpg on the highway, it lacks the versatility and fuel savings of driving on electricity. Even if you opt for the Prius plug-in hybrid, it only has an electric range of 15 miles.
Learn More at Cox Chevy
Many drivers don't realize how great of a fit that the 2014 Volt actually is for them. Take the Volt for a test drive at our West Samoset-area car dealership. We're located at 2900 Cortez Road W. in Bradenton, Florida.
For over 80 years we've been helping families to find Chevy cars that are just right for them. If you would like to learn more, feel free to give us a call at (888) 350-4514