The 2013 Chevy Sonic vs. the 2013 Honda Fit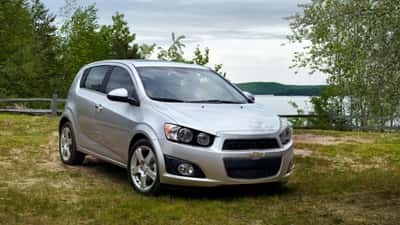 With a compact size and an equally conservative fuel economy, the 2013 Chevy Sonic has become a popular pick with Bradenton and Tampa drivers. Despite its value price tag, Chevy hasn't disappointed with the features the Sonic has to offer.
True to Chevy's style, the Sonic outclasses much of the competition, including the 2013 Honda Fit. With more power yet comparable fuel economy, and more features to boot, the Sonic may be a much better pick for many drivers. Let's see how the two match up.
Vehicle Body Styles
Versatility is one of the things that make this nameplate great. The 2013 Sonic is available as either a five-door hatchback or a four-door sedan, while the Fit is available in only a hatchback body style. We will be comparing the hatchback models from here on out, but if you want a sedan, then choose Chevy.
Features at an Affordable Price
Well equipped both inside and out, here are a few features that come standard on the 2013 Sonic that are not standard on the 2013 Honda Fit:
Bluetooth connectivity for handsfree calling
Steering wheel-mounted audio controls
An onboard handsfree communication system
Front and rear reading lamps
A rear spoiler
Powertrain and Fuel Economy
A good compact crossover should deliver plenty of awesome get-up from the engine while still keeping a lid on fuel expenditure. Both the Sonic and Fit come equipped with a four-cylinder engine and a manual transmission. While the Fit has a power rating of 106 lb-ft of torque and a fuel economy of 33 mpg on the highway, the Sonic gets 125 lb-ft and 35 mpg.
The Sonic also comes with a turbocharged 1.4L engine option, increasing power output to 148 lb-ft of torque. Despite this power increase, fuel savings increase to an estimated 40 mpg with the six-speed manual transmission. The Fit does not offer any alternative engine options.
Test Drive a Sonic at Cox Chevy
These are just a few of the reasons to love the Chevy Sonic. We could also talk about the bold looking exterior and the comfortable cabin, but we invite you to come and see them for yourself.
Cox Chevy is located at 2900 Cortez Road W., in Bradenton, south of Tampa, St. Petersburg, and surrounding communities. We've worked with Suncoast residents for over 80 years helping them to find and take home cars they love. If you have any questions or would like to set up a test drive, feel free to email the Cox family.