The 2013 Chevy Malibu vs. the 2013 Ford Fusion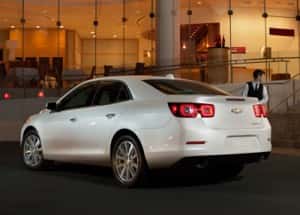 Not only does the 2013 Chevrolet Malibu offer one of the full-sized sedan class's best-looking designs, it also has a great list of tough to beat features and performance options. Like the rest of Chevy's line-up, it continues to do this while still keeping a relatively low price tag. The 2013 Ford Fusion is a similarly priced and sized four-door vehicle. Let's take a look at both vehicles and see which one wins in a side-by-side comparison.
Price and Performance
The 2013 Chevy Malibu 1LT and the 2013 Ford Fusion SE, both midrange trim options, have an MSRP around $24,000. Despite this similarity in price, there are some key differences. Despite their similar fuel economy ratings, an estimated 34 mpg on the highway, the Malibu 1LT beats out the Fusion SE in terms of power. Here's how they match up: 197 hp versus 170hp and 191lb-ft of torque versus 170lb-ft of torque
Vehicle Features
The differences between the two models extend beyond performance. Malibu 1LT drivers enjoy a few key features that are either non-standard or unavailable on the Fusion SE, including daytime running lights. On higher trim levels, when comparing models like the Malibu 2LZ and the Fusion Hybrid, the differences become even more apparent. Malibu 2LZ exclusively enjoys:
Performance tires
Available Xenon HID headlamps
Passenger lumbar support
A power sunroof
Car Warranty
The Malibu also comes with a superior warranty. Here's what both offer:
Powertrain warranty: s 100,000 mile / five-year warranty from Chevy vs. a 60,000 mile / five-year warranty from Ford
Roadside assistance: A 100,000 mile / five-year warranty from Chevy vs. a 60,000 mile / five-year warranty from Ford
Take a Test Drive at Cox Chevy in Bradenton
If you're interested in learning more about the different options available on the Malibu, we encourage you to visit Cox Chevy in Bradenton. Located at 2900 Cortez Road West in Bradenton, Cox Chevy is less than 55 minutes south of Tampa by taking I-75 South. If you have any questions, please don't hesitate to contact our dealership. Our team looks forward to meeting you and helping you find your next car!