The 2013 Chevy Cruze vs. the 2013 Toyota Corolla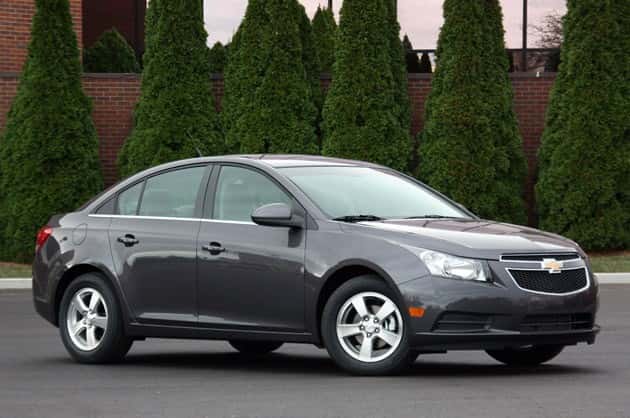 Bradenton and Tampa drivers that are in the market for a small, efficient car should check out the 2013 Chevy Cruze, available today at Cox Chevrolet. Having recently undergone an automotive revolution, the Cruze is once again catching the eyes of smart drivers with it's stylish build, low sticker price (just $17,130 MSRP), and efficient engine.
There are few vehicles as popular as the 2013 Toyota Corolla, however, so let's take a look at just how well the Cruze compares. We think you'll see, just as we have, that the Corolla is doing little more than trading on past successes.
Toyota Fails to Deliver
We're not the kind of dealership that takes joy from seeing a once-great vehicle like the Corolla stumble through the year with disappointing sales, but we would be failing to do our job if we didn't point out to you just how much happier you're are likely to be in Chevy's new small sedan.
To start with, with gas prices never seeming to go down, you'll be saving money week after week with the latest Cruze. Its 138-hp four-cylinder engine bests the Corolla's 132 hp, but you also get better gas mileage out of the Chevy to the tune of 36 highway mpg to the Toyota's 34 mpg.
Once you get behind the wheel of the Cruze, you'll find it better equipped as well, including the following standard features that are either unavailable or cost extra on the Corolla:
Satellite radio
Onboard handsfree communication system
Variable speed wipers
That's not all, though. Chevrolet's powertrain warranty puts Toyota's to shame. Drivers of the Cruze will be protected for 5 years or 100,000 miles, while the Corolla is only under warranty for 5 years or 60,000 miles.
Visit Cox Chevrolet for a Test Drive
So, it looks pretty cut and dry here, right? The Cruze is the small car Florida drivers want in their garages, but before you set it in stone, we want you to come take it for a test drive. They say that seeing is believing, and we think you'll be a believer once you shift into drive.
Contact the Cox family today and set up your test drive. We can't wait to see you.