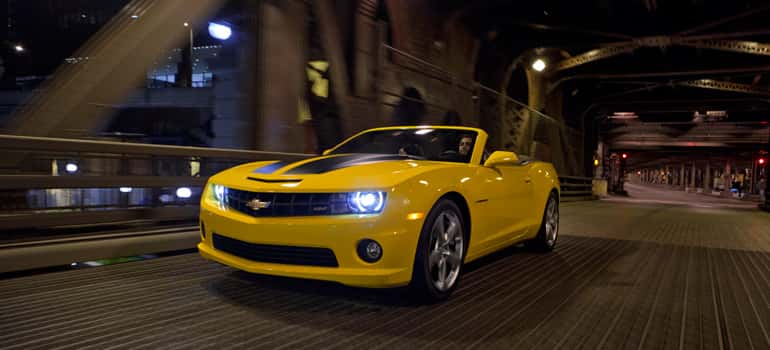 Shop for a Used Chevrolet Camaro Convertible Near Bradenton and Tampa
The Chevrolet Camaro Convertible has long been a flagship model in the Chevrolet lineup, and also one of the most consistently impressive cars the automotive world has ever seen. That is why a used Chevrolet Camaro convertible is such a great choice when you are looking for a fun, stylish, and reliable vehicle that is also affordable.
The current generation of the Camaro came out in 2010. And while all the vehicles from this generation share similar characteristics, each model year has features that are unique to it alone. In order to help you determine which used Chevrolet Camaro Convertible is right for you, we've put together a quick guide to each individual model year. Pick the one you like the best, and then take it for a test drive at Cox Chevy in Bradenton, just a short drive south of Tampa.
2010 Chevrolet Camaro
This is the year when the Camaro first took on the bold look that it sports currently. In addition to its new design, the 2010 Camaro dazzled critics by delivery 300+ hp with every engine option, surprising fuel-economy, and the kind of handling and agility that are rare from a muscle car. What this means is that any trim from this model year will deliver the hair-raising driving dynamics you're looking for. Importantly, however, the convertible version was not available until the following year.
2011 Chevrolet Camaro Convertible
Changes for this year are small but significant. Building on the stellar foundation established by the 2015 model, the 2011 Camaro boosted power for the basic V6 from 304 hp to 312 hp. The OnStar telematics system was installed standard on all trims, and the 2LT and 2SS trims shipped with a heads-up display that made it easy for drivers to keep their eyes on the road. This was also the first year that a convertible version of the newest Camaro became available. If you want to put the top down as you cruise the coast, start here.
2012 Chevrolet Camaro Convertible

The 2012 Chevy Camaro Convertible introduced some big changes to the Camaro. V-6 power was boosted once again, going from 312 hp to 323 hp. The SS version was enhanced with a sport suspension, and a rearview camera became optional on all trims. The interior was also completely overhauled, swapping out the older design for higher-quality materials, introducing an ergonomic steering wheel, and improving outward visibility throughout the cabin. Last but certainly not least, the Z71 trim made its debut, providing max power thanks to a supercharged 6.2L V8 engine that delivered 580 hp and 556 lb-ft of torque
2013 Chevrolet Camaro Convertible
Changes for the 2013 Camaro Convertible mostly involved the features available. Chevy introduced the MyLink touchscreen, an infotainment system that handled audio controls and was available with an integrated navigation system. The SS trim also became available with a performance-boosting options package that added enhanced gearing, suspension, and tires. All manual transmission trims from this model year started coming standard with a hill-start assist feature as well.
2014 Chevrolet Camaro Convertible
The 2014 Chevy Camaro Convertible saw the reintroduction of a much-loved trim from the Camaro's past: the Chevy Camaro Z/28. Built with racing in mind, this rocket came with a 7.0L V8 that delivered 500 hp and 470 lb-ft of torque and had suspension and brake upgrades to keep all that speed under control. Changes to the rest of the trim lineup were largely cosmetic, with new headlights, taillights, grille, and spoiler. Higher level trims also had Recaro front seats available as an option.
Your Used Chevrolet Camaro Convertible is Waiting for You in Bradenton
Regardless of whether you've settled on a model year, or you're still weighing your options, your next step should be to travel from Tampa to Cox Mazda in Bradenton. You can tour our extensive inventory of used Camaros and take any vehicle you'd like out for a test drive. Visit us at 2900 Cortez Road W. in Bradenton, FL, less than an hour south down I-75. Head in our direction seven days a week, and contact us if we can answer any questions.